HUNTING BARRA  IN DUYEN HAI, TRA VINH
Duyen Hai is a coastal district located in the Southern part of Tra Vinh province, the land of vast mangrove forests and thousands of aquaculture areas in the recent years. Mr. Nhanh, a young man comes from Tra Vinh, told me that Duyen Hai is also the land of big barramundi, no less than Binh Dai (Ben Tre).
One of the aquaculture areas in Duyen Hai district
At that time, I was very surprised, because the story about 20kg of Barramundi fish in Ben Tre province is not a legend. He felt I have not believed him yet, then talking fiercely: "Trust me, please! Many big Barramundi fishes must be in Duyen Hai District, not anywhere else!" Then Nhanh told, he knew many lagoons had been abandoned for many years because the land-owners went for a burton in their business. In Duyen Hai, there are also many abandoned ponds and some extensive shrimp rearing ponds that are no longer stocking shrimps. The lagoon owners committed surely we will meet large Barramundi! "Okay- Go", I decided quickly after Mr. Nhanh enthusiastically showed me the photo that proved his words.
One of the aquaculture areas in Duyen Hai district
All my Japanese friends took part in to me enthusiastically. We left Ho Chi Minh City at 2:30 am. The road to Duyen Hai is now quite convenient because we do not have to cross Ham Luong ferry and Co Chien ferry. The ferries keeping the memories of many people of Duyen Hai have now been replaced by two modern bridges. So around 6:30 am, we arrived at Duyen Hai town. Mr. Nhanh picked us up and took us for breakfast. We didn't want to rest at all then quickly went to a lagoon. Japanese friends eagerly come out, they just want to be as soon as possible, be satisfied with hunting fish.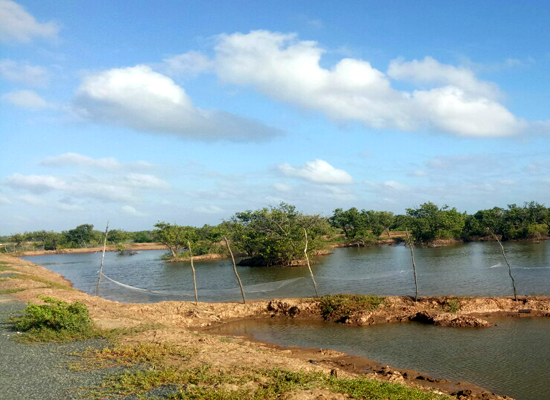 One of the aquaculture areas in Duyen Hai district
It only took about 30 minutes from the center of Duyen Hai to the first fishing spot. Before our eyes was a vastly immense mangrove forest, extremely beautiful and untouched. The reason I call this area is the mangrove forest instead of shrimp lagoon because this area was originally mangrove forest, reorganized by the government and the people into an aquaculture area. People here are very gentle and naive. We did fish where ever we want. However, we advised each other to lose our baits because the fishing spot was completely natural.
Duyen Hai Town, a quiet and peaceful area
We spread out in different direction. As our expected, just ten minutes or more, a member of the team landed a fish. Everyone seemed to be energized.
An hour passed away! We didn't receive any signal from a big fish, especially Barramundi fish; we decided to move to another lagoon that only a few kilometers away from this spot. We were informed that the new fishing spot was pretty and there were some anglers fished a 1.2kg Black Bream fish. Heard that, we started up hoping for the best!
It took about twenty minutes to the second fishing spot. Just like the area we passed through, here was the lagoon! Wide square-shaped bank, so beautiful and well-ventilated lagoons. So it was easy to throw baits far away. We were all overjoyed when we reached such a beautiful place.
Yet, ten minutes, twenty minutes, then thirty minutes passed, there was no signal of any fish. Forty, fifty, then sixty minutes passed away, no one has ever caught fish even though we have heard a lot of fish clawing something. That is fishing in the nature! You just need to be persistent, don't lose faith, chop and change them around, experiment, try and try again… In that recent, whatever we can do is waiting and being patient. My Japanese friends have a lot of patience. They fish passionately. They focused all their attention, doing straightening their lines. They also frequently changed lure.
At noon, there was no any fish; I decided to take a rest for lunch.
We served ourselves all the results of the fishing in the morning
The coastal people in town treat their guests with all the best they have, with the sincere heart, no brag anymore. We all felt warm. Needless to say how excited my Japanese friends were! They wanted me to bring them back here more times to investigate if they can help some local people here a little bit. I also wish to do many good things for the local people so I quickly accepted.
Having lunch together! 
After two hours of resting, we were taken to another aquaculture spot which the owner is an old farmer. His name is H. Mr. H said his aquaculture area is about 35 acres width and it was not used for 5 years. The fish here are not many but very big. At night he still listened to their clattering. We were so happy about this!
As like as Mr. H talked, the wide swampy, sprawling, beautiful and wild area like a scene on Discovery channel. We even couldn't believe why we could reach this place!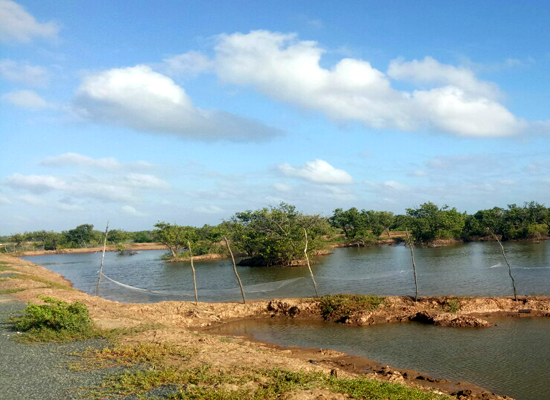 A wonderful fishing spot
And after only three minutes, a member of the team immediately landed a large gummy 60cm length fish, about 05 kg weight. Everyone could gain more power. We eagerly split up in different directions to hunt these wise Barramundis.
Mr. Quoc with his success
After that blazing success, an hour, two and three hours passed, absolutely no more biting, so we decided to move a new fishing spot. The fourth spot of the day was an area of 20 acres width and quite deep water. The fishing guide, my friend, joked me: "There is a few tens of kilograms Barramundi fish that were caught here every time, but I don't know how you can fish them, do you still want to try it?". Of course we did although it was late evening.
The road was bad so it took forty minutes to get us there by the car. What a thrill it was to catch this fishing spot, it was so beautiful. No one told anyone, we quickly scrambled to find our luck. But we never saw fish. Due to, perhaps, we were not familiar with the terrain and it was almost dark, as well as not understanding the habits of these fish…
We stopped the fishing and backed to the hotel. A wonderful meal being waited us ahead. 
A wonderful meal with Barramundi fish and Sake alcohol 
The next morning, at exactly 5.30am, we departed and returned to Mr. H's aquaculture area to find a strong feeling. And just like yesterday afternoon, after only a few minutes of throwing baits, Mr. Kaneko's rod was curled up by a fierce Barramundi's aggressive hitting. All of us became to be fully stretched. Someone rushed over to support Kaneko. One minute, two minutes and three minutes - the team was extremely tense and excited. Suddenly, the line of PE 2 was broken. The fish happily flipped its tail quickly into the water. 
Enjoying the fresh air from the local boat trip
The next destination was as wide and beautiful as the ones we have experienced. According to Mr. N, the owner of the lagoon, his one is compacted with 80 acres. Such a beautiful and pristine lagoon, without a single stroke, was surprising. Far away, my friends still fished passionately. No one seems tired or frustrated at all. Anglers are always really special, do you agree with me? After all, the reward for them was a small fish; however, we loved it very much.
A small fish - A big fun
In the afternoon, after lunch, Mr. Mishima gave us a surprise: He caught a fish. He was the two of four Japanese friends who caught fish during the entire trip. Unsurprisingly, because he is not only a man who loves fishing but also a professional angler. Land based lure caught 32cm oversized Black Bream, over 1.2 kg weight. This was the exceptional size of this small but special Bream. He took care of the fish carefully and put it on the bank. When he touched his hand to the fish's abdomen, his face turned slightly: This is a pregnant Bream with the belly full of eggs. We gathered to help him. We worked as fast and gently as possible to take souvenir photos with the fish and then remove the hook, gently releasing the girl to cool water. Sport fishing means that you use your talent, patience to conquer fish in nature, but the action must be very civilized, that is, releasing the fish if it is a pregnant mother or an immature fish. .
Mr. Mashima with his oversized Black Bream: Over 1.2kg
To successfully understand land based fishing for big Barra, it is a matter of learning how current lines and dirty water interact near creek mouths and pressure points. Sometimes the currents flow different ways and the fish seem to sit in a certain area that allows them to feed comfortably on the bait fish congregating in these areas. Lure selection in relation to depth and action is also an important factor and depends on your local hotspot and how the currents and siltation lines interact. To get a better understanding of the right methods that work in your area, it pays to take the time to experiment! Experiment with lure depth and don't be afraid to change lures if you are not getting success.
The journey of hunting large Barramundi got continuing. None of us was tired. Time still passed in silence. Suddenly! A terrible blow has happened, followed by the sound of the spool reel ripping through the space ... rec ... rec ... rec! Mr. Thoai's lure was the owner of this terrible bite. We saw clearly a shiny large Barramundi was running to the middle of the lagoon. Mr. Thoai lost calming. "Keep calm", I shouted. I know the fish was very big, if he adjusted the maximum drag, he would lose fish right away. He gradually calmed down and mastered the situation immediately afterwards. In five minutes, a 9 kilogram weight, 84cm length Barramundi had completely subdued. 
Mr. Thoai with his big fish: 9kg
This time is 16:30 pm on December 15, 2018. This amazing surprise was a valuable reward for all of us. We were so happy and excited. We kept talking about this for days after that...
A wonderful team
NOTE:
If you want to stay informed about our next courses and be the first to receive special offers that may not be offered to the general public, be sure to sign up to our email saigontackle@gmail.com and enter your name and your contact.
As always we love to hear your stories so feel free to add a comment to our pages: https://m.facebook.com/saigontacklefishingguide/